Description:
【Hair-Like Authentic Eyebrowsã€?/strong>These eyebrow stickers are hair-like, can instantly transform your look with full and natural brows. Eyebrows on fleek in seconds! Very suitable for people who have no or few eyebrows. If your eyebrows are very complete, there may be cases where the eyebrow stickers are not sticky.
【Damage Free & Safeã€?/strong>Unlike cosmetic tattooing and permanent embroidery, our brows cause absolutely no harm or wounds to skin with no recovery time. Stick on and stay gorgeous!
【Easy to Applyã€?/strong>Forget about messy application with glues or excess ink and powder all over your face. Only a small amount of water to moisten the sticker, wait for ten seconds and tear it open to get natural eyebrows.If you want to get a better effevt, you may shave your eyebrows.
【Waterproof and Long Lastingã€?/strong>Made with waterproof pigments, not easy to fall off, not easy to fade, use properly they 4D can even staying power up to 7 days. If it is shiny after pasting, you can use some loose powder and talcum powder to achieve matte.
【Multiple Styles to Chooseã€?/strong>There are eight styles of eyebrow stickers to choose from, each style has different size eyebrows to meet different requirements. Whether you fancy a sharp arch, a gentle curve, or a straighter structure, you can find the perfect brows from our selection to flatter your face shape.
How to Use



1. Apply Vaseline on the eyebrows to make the eyebrows fit tightly to the skin.
2. Choose your favorite style and the right size eyebrow sticker, cut it down.
3. Peel the transparent film on the surface of the eyebrow sticker and cover the original eyebrows.
4. Wetted a paper or towel with water, apply evenly on the back of the sticker to make the sticker completely wet.
5. After waiting for about ten seconds, just tear it apart.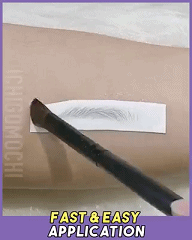 Warm Tips



Brow Microblading process might severely damage the eyebrow root and the skin area, restraining new hair strands from growing. Don't risk damaging your brows!
Specifications:
Type: As shown in the picture(E09/E10/E11/E12/E13/E14/E15/E16)

Color: Black
Package Include:
2* Eyebrow Stickers(Each piece has 11 sizes)