Description:
PROTECTS FEET - Best heel lift sock shields calloused & cracked heels, and helps with bone spurs at the arch, the inflamed tissue of the plantar fascia, absorbs shock, prevents extra pressure on the foot, improves step balance & foot strength!
Features:
�Increase your form height invisibly

Wear it inside your socks, then wear your shoes.

Your height will increase by exactly to 2.0-4.0 cm.

No movement, no slipping! No one will know the secret of your height increase.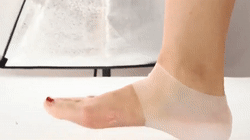 �Incredible comfort, relieves foot and back pain and allows you to be taller

The soft, supple silicone is soft to correct any discomfort you may have in your shoes.

It also prevents blisters, oedema and other problems related to the arch of the foot.




�U-design fits all sizes

Its design allows it to perfectly fit your whole foot and protect all those sides.

This eliminates friction with your shoe for a perfectly optimized comfort.



Specifications:
Product: Invisible Silicone Pad Height Increase Shoe Insoles
Material: Silicone
Function: Shock and moisture absorption, heel raise, achilles tendonitis, plantar fasciiitis
Feature: Invisible, elastic and comfortable
Package: 1 Pair
Color: White
Size Description:
1. Women's common size: 34-39 yards! Only the increased height is different!
2. Universal size for men: 40-44 yards! Only the increased height is different!
3. If women with slightly larger feet, please choose men's size insoles! It will be more comfortable to wear!
4. Choose your favorite size or height before buying!