LIFT YOUR SPIRITS WHEREVER YOU GO
The Portable Mini Air Humidifier fulfilled fulfilled a room with a sense of peace and tranquility . It gently releases moisture into the air to soothe dry skin, static electricity and other ailments caused by dry indoor air, and it helps your indoor plants grow optimally! You can let it run 24 hours a day for maximum benefit, or set the automatic timer to run only when you need it.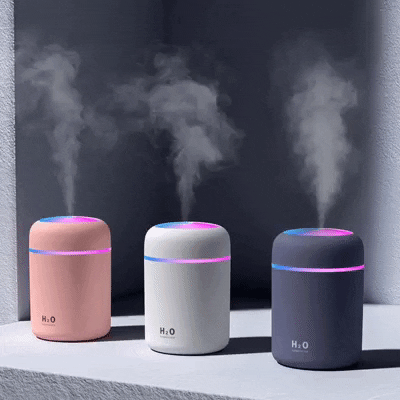 IMPROVES YOUR HEALTH
If you set up the Portable Mini Air Humidifier in your home, make sure that the humidity is maintained . This prevents flu, colds and headaches, but also dry skin and allergies. Not only useful for adults but also for toddlers and babies !
PORTABLE
The portable and small design is very easy for you to take anywhere . The USB power adapter is compatible with any USB port on the device, ensuring that it can be used in bedrooms, offices, cars and bathrooms. 
NOISELESS OPERATION
Ultrasonic humidifiers generate an almost noiseless frequency of 26 dB (quieter than a library) and ensure particularly quiet operation. This humidifier does not disturb you while sleeping or working. 
SPECIFICATIONS
Material:

 

ABS+silicone+Electronic component
Size:

 

3.1*3.1*4.7 inches
Input:

 

DC 5.0V/1.0A
Current:

 

250-350MA
Timed shutdown:

 

4/6 hours
Spray volume:

 

30-45 MLH
Package: 1 * Mini Air Humidifier