Pamper Your Pet With Remarkable Style
Keep your pet friend feeling cozy and secure with this purrfect Shark Cat Bed hideout.

Lovely shark-with-tail-fin-shaped bed
Super Soft, warm, and cozy shark cat bed
Keeps your pet warm and gives them restful sleep
Perfect For Any Small Pet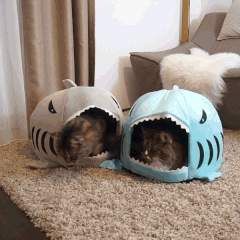 Comes with removable inner cushion mat
Waterproof and non-skid bottom
Durable, flexible, and lightweight foam construction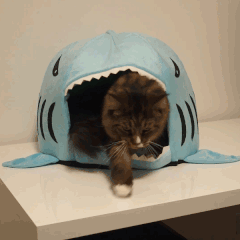 High scratching resistant
Both bed and mat are machines washable
Made of the Finest Materials, Soft and Non-Toxic
Foldable for storage and travel, portable and convenient to carry
Size Chart:
Size:
48*48*35cm

/ 19'*19'*14'Inch
Package Set includes:
1x Shark Cat House
No matter how nomadic cats are in their nature, they will always need a home to go to after their daring and beautiful adventure. It one of the basic needs you have to provide to them to the best of your abilities. Nutritious food to feed your kitty cats, loving family to take care of them, ample water to hydrate their tiny bodies, and a proper shelter in which they can live and sleep peacefully. You need to give them a quality catshark bed for them to doze off comfortably.
That's where the shark cat house comes in. The shark cat house has everything you would need in a cat's home: a comfortable cushion so that they can sleep, enough room to wiggle around but tight enough to fit their preference and an adorable design that would give you a laugh! Cats are very selective when picking their sleeping beds; that's why the shark cat bed is made so that they would love to hang out there.
The removable bed cushion is very convenient for you because you can wash it every time it's dirty, wet, and dusty. You won't have to worry about the bed being smelly because you can simply clean it off the moment your purry friend decide to wreak havoc on their place! It's a fantastic choice not just for your pet cat, but also for you the owner. Keeping your cat busy is all about your cat having some fun, whether it is from a comfy bed or playing with cat toys as we have here.
The cute design is what makes it a great bed to have. The smart shark design of the bed makes it look like a shark is eating your cat! Don't get a heart attack once you see your furry companion in between the jaws of the toothy bed! The fins and the printed design makes it somehow closer to the actual scary creature which is a fantastic detail to add. All in all, it's a great item to have on your household.