Description:
SKULL SHAPE, COOL PERSONALITY
The material used is UV and water resistant made with the highest quality vinyl that will last 6 years outside.
These decals apply similar to a temporary tattoo and are designed to be installed at temperatures ranging from 50°F/10°C - 90°F/32°C to clean, smooth surfaces
This product can be applied to most clean smooth surfaces: vehicle windows, tailgates, home windows, mirrors, glass, interior walls, electronics, tool boxes, coolers, thermos, cups and binders.
Application of the sticker is very easy, taking only minutes.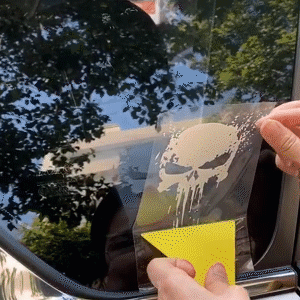 Instructions
Clean the surface where the decal will be installed.

Slowly removed the paper backing making sure that your decal remains stuck to the clear transfer tape. If part of your decal lifts up with the backing, press the paper backing back down against it until it stays stuck to the transfer tape.

Once your decal is peeled away from the backing, line up & position your decal against the surface to which it will be applied.

Use a credit card, squegee, or something similar to smooth down your decal, making sure that it is completely stuck to the surface.

Carefully & Slowly, remove the transfer tape from your decal, making sure that your decal is stuck to the surface. If you see part of the decal does not release from the transfer tape, press it back down to the surface and repeat the process.

Finish effect.
Easy to remove without leaving traces
3M pressure sensitive adhesive can be easily opened after heating.
Use a hair dryer to heat the sticker at high temperature, and peel it off while blowing.

Hot towel removal method: You can cover it with a hot towel first, and when it is soaked, you can easily tear it off.

Hydrogen peroxide removal method: Hydrogen peroxide can soften the hardened viscose. The method of use is to wipe the sticker with a towel dipped in hydrogen peroxide.

Alcohol removal method: This method is similar to the hydrogen peroxide method. You can use a towel dipped in a small amount of alcohol to wipe the sticker repeatedly.

All decals are packed in 100% recyclable rigid envelopes or cardboard tubes to help minimize our carbon footprint.
Package Includes:
1* Skull sticker(Paper Backing+Sticker+Clear Transfer Tape)