Description:
⚡Only 2 steps, Clean as new!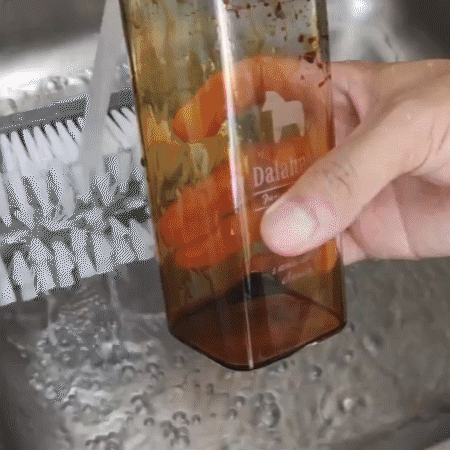 If your house is anything like mine, your living companions will use a cup once, leave it lying around and then grab a new one every single time they get a little parched. The result - a sink full of cups at the end of every day. And you have to wash them otherwise you'll have nothing to drink out of the following day...and the vicious cycle continues. This genius cup scrubber makes getting clean cups easier so you won't be cursing these messy bessies quite as much.
Features:
MATERIAL:

 

Glass cleaning brush is made of PP+PVC material, flexible bristles, moderate hardness to

 

ensure remove stubborn dirt and longer life.

DOUBLE BRUSH:

 

The cup brush with a double-sided bristle brush,

 

360 degrees no dead angle cleaning

, you can slide glassware between the two sets of bristles, makes cleaning your glassware a breeze.
3 SUCKERS:

 

There are three suction cups at the brush bottom, standing glass cleaner can be attached to the wall table, or attaches to the bottom of the sink, just slide glassware between the two sets of bristles, convenient to use and cleaning.
REMOVABLE & EASY TO CLEAN:

 

Creative lazy rotating cup brush can be removed and cleaned, it is convenient to store, does not take up space, easy to drain, clean and hygienic.
FAMILY ESSENTIALS BRUSH:

 

This brush is thick and can clean all kinds of cups, such as

 

baby bottles, sports bottles, beer bottles, wine glasses, long cups, vacuum cups, travel bottles, beer players, rice bottles, vases or coffee pots, etc. Perfect cleaning tools for bar kitchen.
Specification: