Allows your dog to entertain themselves, even when you aren't home! 5.5" Diameter.
Keep your dogs happy and healthy with the Wobble Wag Giggle ball!  This fun and exciting toy makes fun giggle sounds when it moves around, and is fun for all sizes of dogs!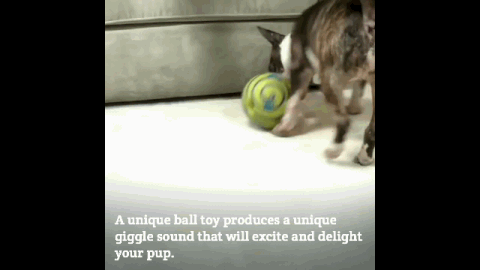 The interactive ball makes fun, giggling noises with just a push. It features 3 tubes that let out engaging "play with me" sounds when rolled around and 6 clutch pockets that allow dogs of all sizes to easily pick up the toy and carry it. Made of strong and durable plastic, it's great for indoor or outdoor play.
FEATURES OF THE WOBBLE WAG GIGGLE BALL:
makes fun giggly noises
made of flexible, durable, pet safe Phthalate-free vinyl
fun for every age; puppies to seniors
for all sizes of dogs
no batteries required
can be pushed, shaken or picked up by the easy clutches