Did you know that giving something to your grandson without being asked will make a deep impression in his life, Especially at Birthday, Anniversary, Christmas, etc. 🎅🤶SURPRISE HIM TODAY with such sweet baseball!
💝INSCRIPTION READS:
"TO MY GRANDSON
I WANT YOU TO BELIEVE DEEP IN YOUR HEART THAT
YOU'RE CAPABLE OF ACHIEVING ANYTHING YOU PUT YOUR MIND TO THAT
YOU WILL NEVER LOSE YOU EITHER WIN OR LEARN
JUST GO FORTH AND AIM FOR THE SKIES
I CAN'T PROMISE TO BE HERE
FOR THE REST OF YOUR LIFE
BUT I CAN PROMISE TO
LOVE YOU FOR THE REST OF MINE"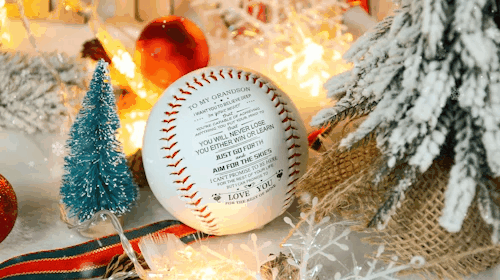 🎁♥Gift♥ Perfect for any gift giving occasion. Especially CHRISTMAS GIFT, or just surprise him and let him know how much he is loved with this beautiful gift! 🎁
❤️The most romantic gift in the world.
❤️Constant reminder of HOW MUCH he mean to YOU.
❤️UNIQUE gift for your SPECIAL one, you won't find in the malls.
Order today whilst it's on sale, click "buy it now" now.

❄FEATURES❄
Reduced impact training balls provide an authentic baseball look with soft, cushioned construction.
Helps youth players build confidence by reducing fear about impact.
Same size and visual cues as standard baseballs for effective training.
⛄SPECIFICATION⛄
Official regulation size Baseball
Features traditional red stitching